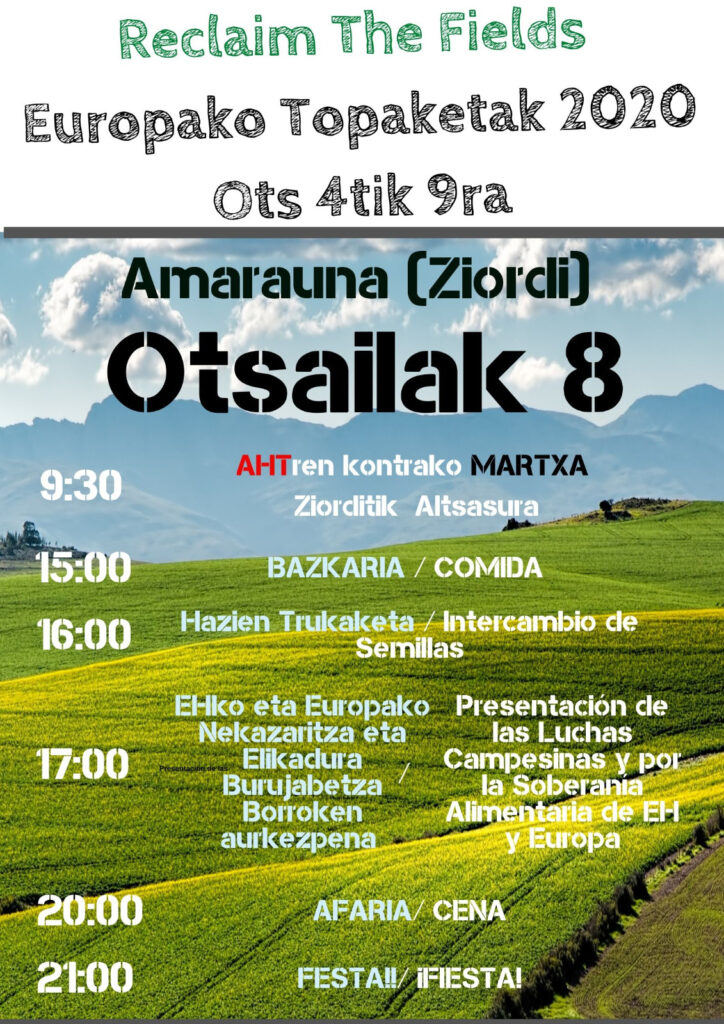 Reclaim the Fields Amaraunan

Otsailak 4tik 9ra urteroko europear batzarra egingo du Reclaim the Filelds-ek Ziordian.
Gure sareari buruzko informazio gehiago aurki dezakezu eta gonbidapena irakurri gure web orrian reclaimthefields.org
Larunbatean ekitaldi publikoa egingo dugu manifestazio batekin, hazi trukaketa, borroka aurkezpenak, janari ona eta musika. Manifa AHTren aurkakoa izango da AHTri buruzko informazio gehiago https://fundacionsustrai.org/category/tren-de-altas-prestaciones-tav/

Manifa eta gero hiruretan elkarrekin bazkalduko dugu, ekarri elkarbanatzeko jana.
16:00etan: hazi trukaketa. Eraman zeuenak!
17:00 ean Europa guztiko borroka eta erresistentzia desberdinen aurkezpena. Bereziki gonbidatzen dugu Espainiar estatuko jendea beraien egoerak aurkeztera.
Eta bukatzeko janaria eta festa.

Han elkar aurkitzea espero dugu, gogotsu eta besoak haziz eta asmo onez beteak. Galderarik bazenu edo gurekin harremanetan jarri nahi izan ezkero riseup.net en kontakatatu edo ondoko orria bete https://reclaimthefields.org/contribution-for-the-program/
This post is also available in: English (English) Français (French) Español (Spanish)