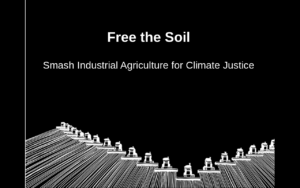 Climate justice movement and agricultural fights are now joining forces to stop industrial agriculture. We need to expose the devastating practices of the industrial agricultural system and the few companies that control it, and shut them down! In September 2019 Free the Soil will do a mass action against YARA in Brunsbüttel (Northern Germany), to disrupt one of Europe's biggest nitrogen-fertilizer plants. We will stop the destruction where it's happening and break down the legitimacy of the agricultural industry.
The action will be an act of mass civil disobedience, using our bodies and our collective determination to overcome barriers and close down one of Europe's biggest nitrogen-fertilizer production plants.
For the days leading up to the action we will create space for action trainings, affinity group meetings and action organization in order for all of us to feel safe and prepared.
In the days leading up to the action, a Climate and Agriculture camp will be organized near to where the action will take place. This camp should be a space for all of us to meet, tell stories, exchange knowledge and ideas, and prepare for action. A space for practicing alternatives to industrial agriculture and other ways of living in opposition to capitalist society. It should be a space for collective dreaming of a better world and for connecting our various struggles of resistance.
The camp will offer basic infrastructure (kitchen and food, toilets, tents for meetings, …), as well as action-trainings and workshops on the topics of climate, agriculture and non-hierarchical living.
check it out https://freethesoil.org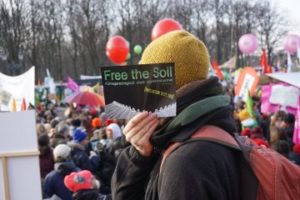 It would be great to have a Reclaim the fields Barrio! If you are interested, contact us at:
rtfbarrio["at"]riseup.net
This post is also available in: Deutsch (German) Español (Spanish)